Special offers at Top Scuba Diving Destinations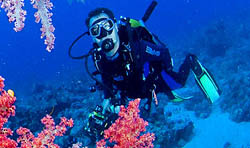 Whether you're a beginner or experienced diver, Delta Vacations offers customized vacations — including airfare, accommodations and dives — to many of the world's top scuba diving destinations in Mexico, the Caribbean, Central America and the Pacific.
Drift dive Palancar Reef in Cozumel, plunge into Belize's famous Blue Hole, encounter a friendly stingray in Grand Cayman, or explore Australia's Great Barrier Reef along with many more of the
...

With more than 50 years in business, Delta Vacations is one of the largest vacation package providers in the United States, and is a Delta Air Lines company. Delta Vacations is the convenient, one-stop shopping experience for customers and travel advisors, who are looking to book memorable getaways that feature Delta's notable flight service, combined with stays at 5,000+ hotels and resorts. Our dedication to providing above-and-beyond experiences has earned Delta Vacations numerous industry awa
...
Multiple itineraries available